Shooters stocks a nice selection of Waterfowl / Wingshooting gear to include steel and non toxic waterfowl loads as well as a good selection of waterfowl guns! Great selection of Deer rifles and scopes to choose from! Scopes purchased here mounted and bore sighted at

NO CHARGE!
New Products
Shooters Supply Now Stocks the Larue Tactical and LMT .308 Rifles.
Stop by the shop to check them out. They have incredible accuracy and awesome qualitiy.


NOW IN STOCK!
Larue Tactical OBR rifles in 5.56 and .308. OBR 5.56 features: Guaranteed sub-MOA accuracy (with Federal GMM, 77 grain ammo). Proprietary handguard design keeps the rifle cool, aids in accuracy and ease of handling. Unique fully freefloating barrel and barrel-nut design, that does not touch the handguard at any point, aids in accuracy. Lower is low-shelf, to accommodate RDIAS. Flared magwell allows faster mag changes. Large trigger opening, with integral trigger guard. LW-50 stainless steel barrels in 12", 16.1", 18" & 20" lengths. Wylde chambered in 5.56mm NATO. Polygonal rifling.1/8 twist-rate rifling. 10,000-round barrel life (approx). Muzzle threading: ½ x 28. Direct gas-impingement: 12" is carbine-length, 16" and 18" are mid-length, and 20" is rifle-length. Port Selector Technology (PST) gas block.
LMT MWS .308 upper receiver with 16" chrome-lined 1:10" twist .308 barrel, standard semi-auto bolt carrier group, tactical charging handle assembly, LM308MWS lower with SOPMOD buttstock, two-stage trigger group, ambi selector and ambi mag release. Complete weapon ships with a sling, operator's manual, tactical adjustable rear sight, tactical front sight, (1) twenty-round magazine, torque wrench/driver and (3) rail panels.

Featured Products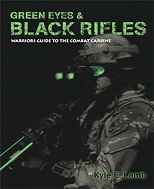 Introducing one of the best books for the tactical shooter ever written. Drawing on combat experience from Mogadishu, Somalia to Mosul, Iraq, Retired SGM Kyle E. Lamb passes on lessons learned to fellow Warriors. Green Eyes and Black Rifles: The Warrior's Guide to the Combat Carbine is intended to enhance your shooting skills, and refine the tactical employment of your combat carbine. New shooter and veteran alike will find a wealth of information, and numerous tools for their tactical toolbox.
Shooters Supply is featuring the Maxpedition Versipack. This is a true all in one small pack. They allow the operator to carry all of his necessary equipment in a compact and versatile pack. Order yours today.